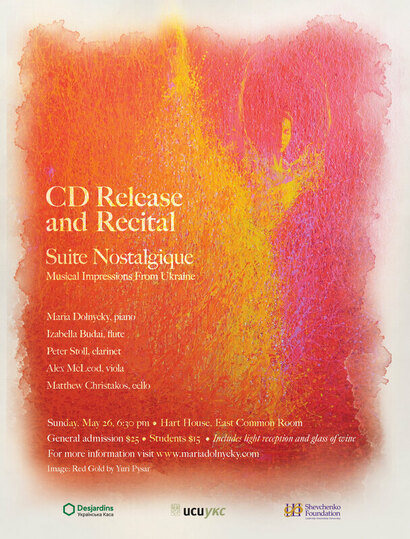 Upcoming...
Please join us in celebrating the release of a unique CD: Suite Nostalgique! Five musicians from Canada perform works by seven composers with creative ties to Ukraine's rich musical legacy. Enjoy a glass of wine with appetizers as you listen to the vibrant, Benny Goodman-inspired Foxtrot by Taras Yashchenko, or the quirky, bite-sized Petit fours by Boris Kosak. Listeners will be transported to faraway places of storytelling by the tranquility of Akimenko's Idylle and the lyricism of Barvinsky's Romances.

Izabella Budai, flute
Matthew Christakos, cello
Maria Dolnycky, piano
Alex McLeod, viola
Peter Stoll, clarinet

Music by Lysenko, Kos-Anatolsky, Barvinsky, Levko Kolodub, Boris Kosak, Taras Yashchenko, and Akimenko.

Cover art: "Red Gold" by Yuri Pysar.​
​
---
Sunday, May 26, 2019.
Doors open at 6:30 pm. Ticket purchase includes light reception with a glass of wine, followed by a short recital.

Hart House (University of Toronto), East Common Room
7 Hart House Circle, Toronto (Museum subway)

Tickets (at the door): $25. general admission; $15. students; children under 12 free.
CDs will be available for purchase.
​

​© 2019 Maria Dolnycky. All rights reserved.